Property Inspection Services
Our inspection services and our unique reporting system provides our clients with detailed, photo filled reports that are 100% personalized to your particular needs.
While our home inspections include a complete walk through, not every situation calls for a complete inspection. You may choose one or more of the below services individually.
Home Inspections
Compass Inspectors has an all-inclusive inspection package to give you piece of mind and honest approach to your inspection cost. You only have one chance to get your inspection right when buying a home don't risk it with inexperience or sales tactics. We provide home inspections in New York and Connecticut with an all-inclusive pricing so you can buy that new home with confidence. We include full report with pictures and deliver the report via link to our cloud so not emailing of report is needed.
I provide as much information as possible for the property you are considering whether you are buying your fist home or an investor I can provide you with an impartial and objective inspection to eliminate unwelcome surprises.
My reports are designed to provide you with the most detailed and simple to understand information to allow you to make an informed and educated decision. We provide a custom report for your home not a template or watered down information. We don't just hand over a report and let you fend for yourself we care.
Commercial Property Inspections
Compass inspectors provides Commercial Property Assessment Inspections (also known as Due Diligence Assessments) and consulting services to assist investors, companies, developers and lenders in the decision making process when purchasing, leasing, selling, investing, rehabbing, lending and managing property.
A typical commercial inspection reviews the condition of the building's structure and any systems affecting occupancy of the building. The report will describe the building's physical condition and indicate what may need major repair or replacement.
Thermal Imaging Inspections
Compass Home Inspectors uses Thermal Imaging is one of our tools to detect hidden issues during a home inspection. Thermal Imaging is one of our tools to detect hidden issues during a home inspection. Thermal imaging has now been in place for a number of years within the building industry and has been used to find problems with building material.
Hidden water leaks
Leaks within the HVAC system
General plumbing leaks and faulty electrical and mechanical systems.
Compass Home Inspectors Westchester uses Thermal Imaging is one of our tools to detect hidden issues during a home inspection.
Roof Issues basement issues:
Roof leaks can cause mold growth and major issues in the attic area. Basement issues are more common in older homes in Westchester NY the use of thermal imaging can find basement issues. The cost of energy in New York is at an all-time high and rising. Thermal imaging inspections are useful for energy audits in Westchester NY because you can see exactly where cold air is entering the home or heat is being lost, along with energy dollars.
Electrical Issues:
Thermal imaging has also been used successfully to help locate loose electrical connections or overheated breaker boxes by identifying "hot spots". Some electrical panels used even up to 2011 have been recalled or found defective and infared scan can detect defective circuit breakers.
Mold Issues and Indoor air quality:
The Indoor Air Quality (IAQ) industry has made significant strides in the use of this outstanding technology as a way to provide accurate and reliable results during investigations. In fact, it has been determined that the proper use of this technology can increase accuracy and help cut investigation time significantly.
Thanks to thermal imaging, Compass Inspectors have the ability to examine roofs, floors and walls for moisture intrusions, energy loss and electrical problems faster and more thoroughly For your home inspection.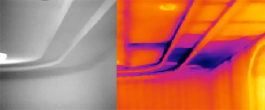 While infrared does not specifically detect mold, it does provide Inspectors with the distinct advantage of quickly and accurately identifying conditions where mold typically grows.
Thermal imaging cameras have quickly become the "must have tool" for IAQ Professionals. Not only is this sophisticated technology is used in every Compass mold inspection, it is also used in every post-remediation verification survey to ensure that building materials have been thoroughly dried out before any reconstruction work begins. If construction materials are not completely dry, mold growth will reoccur. Infrared technology eliminates the guesswork and provides quick visual assessment of the thoroughness of dry out job.
Healthy Homes Program
The U.S. Department of Housing and Urban Development's (HUD) Healthy Program helps makes our home safer. The program provides homeowners and rental property owners with practical information about how to prevent health and safety hazards.
Making Your Home a Healthier and Safer Place to Live.
Asthma and Allergies
Mold and Moisture Control
Home Safety and Unintentional Injuries
Lead Hazards
Indoor Air Quality
We perform three basic different types of Mold Testing and Mold Inspections in New York and Mold Testing in Connecticut
Mold Air Testing: (Our Most Requested Package)
We will take one or two (depending on weather and wind conditions) exterior air samples, one air sample from the basement or first floor and one air sample from the HVAC system (if the home has hot air heat). The fee typically does not include any inspection or surface testing at all, just mold air testing. If desired mold swab tests or additional air samples can be taken and tested for mold for additional cost each while we are on site.
Mold Surface Testing:
Take three mold test surface samples with swabs. Total fee for listed service various for each inspection . Additional swab mold tests are additional cost each. No inspection or air testing are included.
Full Mold Screen Inspection with Further Sampling:
Inspect the exterior of the building such as the roof from ground level or eaves or walk the roof if it accessible from our 12′ ladder and it is safe to do so, the roof covering, roof drainage system, including gutters and downspouts, vents, flashings, skylights, chimneys, and any other roof penetrations, the cladding, flashing and trim, exterior doors, windows, decks, stoops, steps, stairs, porches, railings, eaves, soffits and fascias, grading surrounding the building perimeter and items that penetrate the exterior siding or covering materials.
On the inside we will inspect the basement, foundation, crawl spaces and structure for ventilation issues and for moisture intrusion.
We will inspect components and parts of mechanical systems such as the heating, cooling and ventilation including the air handler, circulating fan, and air filter, condensate pump, readily visible ductwork, a representative number of supply and return air registers, central humidifier and the central air conditioning unit.
We will inspect parts of the plumbing system such as the main water line; visible water supply lines; visible drain, waste, and vent pipes; water heater, and fixtures such as toilets, faucets, showers and tubs
We will also inspect the attic, ventilation, insulation, framing and sheathing. the interior walls, ceilings, floors, doors and windows, ventilation in the kitchen, bathrooms and laundry as well as whole house ventilation fans.
In addition to inspecting the above items (included) we will:
Take one or two (depending on weather and wind conditions) exterior air samples, one air sample from the basement or first floor and one air sample from the HVAC system (if you have hot air heat). If areas of suspected mold growth are found we will show them to you and provide you with our input as to how many swab samples should be taken and sample them for additional cost each.
While many odors smell "like mold" and look "like mold" the only way to tell if they are actually mold and to determine if they are a toxic mold is to perform testing.
We are equipped to take mold samples in case a visual non invasive home inspection discovers the need for further evaluation and testing. The color of mold (black mold, green mold, white mold) is not an indication of exactly what the problem is.
Septic System Inspections
When purchasing a home with a septic tank, it is advisable to have it inspected. Repairs and replacement can be very costly as well as possible fines for faulty systems.
Compass Inspectors will do a complete inspection that will include visually verifying performance of the septic drain system, visual inspection of the tank where an accessible lid is available, and inspection of the leach field area.
Energy Audit Inspection
With the rising cost of utility bills that are now starting to crepe up on us as the winter is making its presence known. Let me help you find where your money is escaping and help you save on those rising utility bills.
I have purchase a new tool to add to my arsenal of Home Inspection tools.
The new Thermal Leak Detector which helps reduce energy costs by finding energy leaks in your home. I can instantly identify problem areas around drafty windows and doors, and uncover hidden leaks and insulation "soft spots" around electrical outlets, recessed lights, and along floor molding. When the device hits a cold or hot spot, an LED indicator light changes to blue or red depending on the type of temperature change registered. Let me help you find and seal energy leaks where you can save up to 20% on heating and cooling costs! If you have any other questions, please feel free to contact me. This is a very affordable inspection that will help you save money, please call me today to get a quote.
Home Energy Audits
You can easily conduct a home energy audit yourself. With a simple but diligent walk-through, you can spot many problems in any type of house. When auditing your home, keep a checklist of areas you have inspected and problems you found. This list will help you prioritize your energy efficiency upgrades.
Locating Air Leaks
First, make a list of obvious air leaks (drafts). The potential energy savings from reducing drafts in a home may range from 5% to 30% per year, and the home is generally much more comfortable afterward. Check for indoor air leaks, such as gaps along the baseboard or edge of the flooring and at junctures of the walls and ceiling. Check to see if air can flow through these places:
Electrical outlets
Switch plates
Window frames
Baseboards
Weather stripping around doors
Fireplace dampers
Attic hatches
Wall- or window-mounted air conditioners.
Also look for gaps around pipes and wires, electrical outlets, foundation seals, and mail slots. Check to see if the caulking and weather stripping are applied properly, leaving no gaps or cracks, and are in good condition.
Inspect windows and doors for air leaks. See if you can rattle them, since movement means possible air leaks. If you can see daylight around a door or window frame, then the door or window leaks. You can usually seal these leaks by caulking or weather stripping them. Check the storm windows to see if they fit and are not broken. You may also wish to consider replacing your old windows and doors with newer, high-performance ones. If new factory-made doors or windows are too costly, you can install low-cost plastic sheets over the windows.
If you are having difficulty locating leaks, you may want to conduct a basic building pressurization test:
First, close all exterior doors, windows, and fireplace flues.
Turn off all combustion appliances such as gas burning furnaces and water heaters.
Then turn on all exhaust fans (generally located in the kitchen and bathrooms) or use a large window fan to suck the air out of the rooms.
This test increases infiltration through cracks and leaks, making them easier to detect. You can use incense sticks or your damp hand to locate these leaks. If you use incense sticks, moving air will cause the smoke to waver, and if you use your damp hand, any drafts will feel cool to your hand.
On the outside of your house, inspect all areas where two different building materials meet, including:
All exterior corners
Where siding and chimneys meet
Areas where the foundation and the bottom of exterior brick or siding meet.
You should plug and caulk holes or penetrations for faucets, pipes, electric outlets, and wiring. Look for cracks and holes in the mortar, foundation, and siding, and seal them with the appropriate material. Check the exterior caulking around doors and windows, and see whether exterior storm doors and primary doors seal tightly.
When sealing any home, you must always be aware of the danger of indoor air pollution and combustion appliance "backdrafts." Backdrafting is when the various combustion appliances and exhaust fans in the home compete for air. An exhaust fan may pull the combustion gases back into the living space. This can obviously create a very dangerous and unhealthy situation in the home.
In homes where a fuel is burned (i.e., natural gas, fuel oil, propane, or wood) for heating, be certain the appliance has an adequate air supply. Generally, one square inch of vent opening is required for each 1,000 Btu of appliance input heat. When in doubt, contact your local utility company, energy professional, or ventilation contractor.
Insulation
Heat loss through the ceiling and walls in your home could be very large if the insulation levels are less than the recommended minimum. When your house was built, the builder likely installed the amount of insulation recommended at that time. Given today's energy prices (and future prices that will probably be higher), the level of insulation might be inadequate, especially if you have an older home.
If the attic hatch is located above a conditioned space, check to see if it is at least as heavily insulated as the attic, is weather stripped, and closes tightly. In the attic, determine whether openings for items such as pipes, ductwork, and chimneys are sealed. Seal any gaps with an expanding foam caulk or some other permanent sealant.
While you are inspecting the attic, check to see if there is a vapor barrier under the attic insulation. The vapor barrier might be tarpaper, Kraft paper attached to fiberglass batts, or a plastic sheet. If there does not appear to be a vapor barrier, you might consider painting the interior ceilings with vapor barrier paint. This reduces the amount of water vapor that can pass through the ceiling. Large amounts of moisture can reduce the effectiveness of insulation and promote structural damage.
Make sure that the attic vents are not blocked by insulation. You also should seal any electrical boxes in the ceiling with flexible caulk (from the living room side or attic side) and cover the entire attic floor with at least the current recommended amount of insulation.
Checking a wall's insulation level is more difficult. Select an exterior wall and turn off the circuit breaker or unscrew the fuse for any outlets in the wall. Be sure to test the outlets to make certain that they are not "hot." Check the outlet by plugging in a functioning lamp or portable radio. Once you are sure your outlets are not getting any electricity, remove the cover plate from one of the outlets and gently probe into the wall with a thin, long stick or screwdriver. If you encounter a slight resistance, you have some insulation there. You could also make a small hole in a closet, behind a couch, or in some other unobtrusive place to see what, if anything, the wall cavity is filled with. Ideally, the wall cavity should be totally filled with some form of insulation material. Unfortunately, this method cannot tell you if the entire wall is insulated, or if the insulation has settled. Only a thermographic inspection can do this.
If your basement is unheated, determine whether there is insulation under the living area flooring. In most areas of the country, an R-value of 25 is the recommended minimum level of insulation. The insulation at the top of the foundation wall and first floor perimeter should have an R-value of 19 or greater. If the basement is heated, the foundation walls should be insulated to at least R-19. Your water heater, hot water pipes, and furnace ducts should all be insulated. For more information, see our insulation section.
Heating/Cooling Equipment
Inspect heating and cooling equipment annually, or as recommended by the manufacturer. If you have a forced-air furnace, check your filters and replace them as needed. Generally, you should change them about once every month or two, especially during periods of high usage. Have a professional check and clean your equipment once a year.
If the unit is more than 15 years old, you should consider replacing your system with one of the newer, energy-efficient units. A new unit would greatly reduce your energy consumption, especially if the existing equipment is in poor condition. Check your ductwork for dirt streaks, especially near seams. These indicate air leaks, and they should be sealed with a duct mastic. Insulate any ducts or pipes that travel through unheated spaces. An insulation R-Value of 6 is the recommended minimum.
Lighting
Energy for lighting accounts for about 10% of your electric bill. Examine the wattage size of the light bulbs in your house. You may have 100-watt (or larger) bulbs where 60 or 75 watts would do. You should also consider compact fluorescent lamps for areas where lights are on for hours at a time. Your electric utility may offer rebates or other incentives for purchasing energy-efficient lamps.
Maintenance Inspections
Compass Inspectors offers comprehensive, independent and cost-effective Home Maintenance and Safety Inspections.
Our Maintenance and Safety Inspections review all areas of your home. The inspection will review:
Roofing and Attic
Foundation, Basement and Crawlspace
Plumbing System
Electrical System
Heating/Cooling Systems
Garage
Interior Spaces
Our detailed report will outline:
Immediate Repairs – highlight items needing immediate repair
Maintenance Reminders – outline items that are in need of maintenance or will need maintenance in the next year
Monitoring Needed – indicate reminders for items that should be monitored and checked periodically
Safety Items – highlight any unsafe conditions or items affecting occupant safety
All reports can be obtained online.
Conditions & Hazards Report
Our job as your professional home inspector is to alert you, to the extent possible, to unknown conditions and potential environmental hazards in your current or potential house.
These hazards may include:
Defects in the walls
Roof framing
Exterior wall framing
Interior framing
Cracks in the foundation
As well as anything that may indicate a serious structural problem that may be the result of poor structural design, foundation settlement, poor construction techniques, improper structural modification, water damage, termite damage or other causes.
Our Conditions and Hazards Report includes a clear description of conditions found so you can easily identify them.
Radon Testing
Radon is a carcinogenic gas that is hazardous to inhale. Build-up of radon in homes is a health concern and many lung cancer cases are attributed to radon exposure each year. About 12% of lung cancers and more than 20,000 Americans die of radon-related lung cancer each year.
You cannot see, smell, or taste radon. But it still may be a problem in your home.  When you breathe air containing radon, you increase your risk of getting lung cancer.
Testing is the only way to find out your home's radon levels. EPA and the Surgeon General recommend testing all homes below the third floor for radon. If you find that you have high radon levels, there are ways to fix a radon problem. Even very high levels can be reduced to acceptable levels. Radon has been found in homes all over the United States. It comes from the natural breakdown of uranium in soil, rock and water and gets into the air you breathe. Radon typically moves up through the ground to the air above and into your home through cracks and other holes in the foundation. Radon can also enter your home through well water.  Your home can trap radon inside.
Any home can have a radon problem. This means new and old homes, well-sealed and drafty homes, and homes with or without basements. In fact, you and your family are most likely to get your greatest radiation exposure at home. That is where you spend most of your time. Nearly 1 out of every 15 homes in the United States is estimated to have an elevated radon level. Elevated levels of radon gas have been found in homes in your state.
Water Testing
We specialize in water analysis, radon testing, and sample collection. So when you need a first-rate outfit to handle your lab work, come to us.
Drinking Water Analysis
Waste Water Analysis
Radon & Air Testing
Radon & Water Testing
Sample Collection
When it comes to the complexities of water analysis, radon testing and sample collection, we know you're going to have questions.
Westchester County water testing certified
Termite Inspections
Whether you suspect that you may have a termite problem in your own home or business and want your property/building inspected for termites; or you want a routine termite inspection; or you need a residential or commercial property inspected for a sale or purchase.
When it comes to termite inspection in Westchester and Putnam county, you won't find another company as committed to your satisfaction. Compass Inspectors is fully independent and works for you, not a realty office or any other business that wold skew your report. Compass Inspectors is fully licensed and insured.
Lead Testing
Compass Inspectors have the experience needed to identify potential sources of lead in your home or commercial property. Lead was used in paint products up until 1978, and it is safe to assume any home or commercial property built prior to 1978 will contain lead. We are familiar with the most common products that have been known to contain lead, and will share any safety concerns with you in our detailed, easy to read reports.
Common Lead Hazard Areas
Interior/Exterior Windows & Window Frames
Doors & Door Frames
Kitchen & Bath Cabinets
Stairs, Railings & Banisters
Interior Walls
Baseboards
Porches & Fences
Exterior Siding
Garages
Water
Health Risks
When lead is ingested, humans are subject to lead poisoning.  Over prolonged periods of time, the lead poisoning can increase and intensify.  The symptoms of lead poisoning in children can include one or more of the following: Brain and/or nervous system damage, Learning disabilities, behavioral and physical problems, severe headaches and more.  Adults are also susceptible for lead poisoning and some symptoms include: Nervous system disorders, high blood pressure, muscle and joint pain, concentration and memory problems, reproductive problems, and difficulties with pregnancies.
For more information about Lead in paint, dust, soil or water